04 • An iOS App Redesign
When tackling Realstir's iOS App, I started with the basics: simplify navigation and use permission priming and clear tutorials to improve the onboarding process.
Improving Permission Priming
When users opened the Realstir app for the first time, they were abruptly greeted with a flurry of permission requests (figure 4.01), including notifications and location requests.
Research, including this study by clutch.co, shows that users find it important to know why an app is asking for certain information, including access to system permissions. Additionally, immediately requesting access to permissions during onboarding, before those permissions are actually needed for app functionality, has been shown to diminish user trust and lead to decreased permission allowance.

To increase permission allowance and encourage user comfort and trust, I chose to implement priming dialogues and action-triggered (as opposed to upon-download) permission requests. For users who want to allow permission access, these priming explanations prepare them for the "official" (system) permission request, letting them know why we want access to that permission and providing them with a "heads up." For users who aren't open to allowing permission access, these priming dialogues "catch" them before they get to the system's dialogue.
Below, Figure 4.02 shows both of these scenarios. If a user says "Not Now" (grey line) to the Priming Dialogue but later wishes to allow access to the permission, they are saved a trip to the iOS Settings app in order to grant access.
When selecting trigger actions and writing copy for the priming dialogues, I followed three principles:
Request a permission only when we can offer added value in return for the user's trust.
Answer the question "Why do you want access to this permission?" with a trust-building statement (for privacy-related permissions, like Location Services or Camera access) or a value proposition (for potentially-annoying permissions, like Notifications).
Use a verb for the "OK" button in order to make it clear what will happen if the user says "OK."
The table below shows some of the trigger + explanation pairs I wrote for iOS notification priming:
Priming Dialogue Explanation:
"Why?"
Priming Dialogue Options:
Location Services
User geolocates using the map search
Realstir uses your location to show you nearby listings and local real estate experts.
Realstir will never broadcast your exact location.
Notifications
Agent creates an account
Would you like to be notified when local buyers and sellers contact you?
Notifications
Consumer "favorites" a listing
Would you like to be notified if there is a change to this listing's status or price?
Notifications
User sends a message
Would you like to be notified when you receive messages?
Onboarding Tutorial
The existing onboarding tutorials were cluttered and difficult to read (figure 4.04). To improve them, I designed a template for the four tutorial screens, which consisted of a product screenshot and information about the feature set against a background gradient, ensuring that text and tutorial navigation were legible and visible (figure 4.05). Finally, I animated the onboarding tutorial with a simple, friendly spring effect (figure 4.06).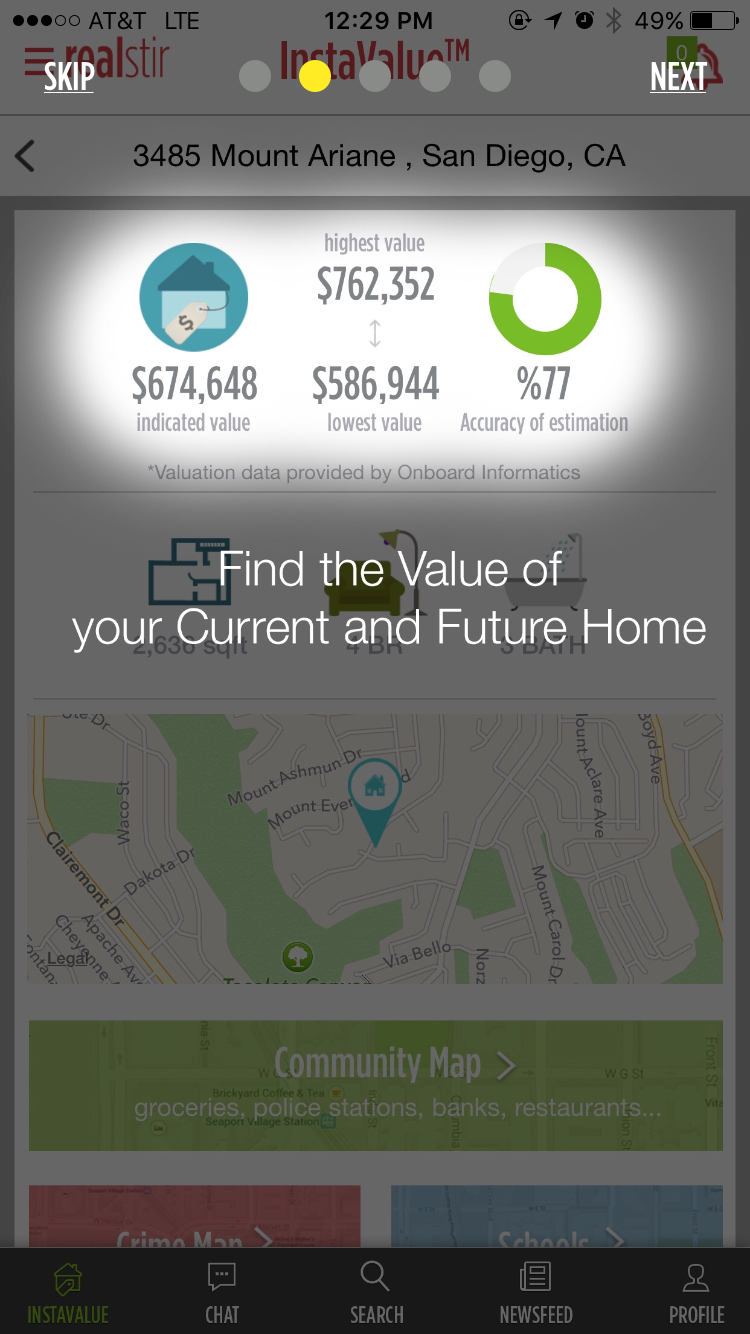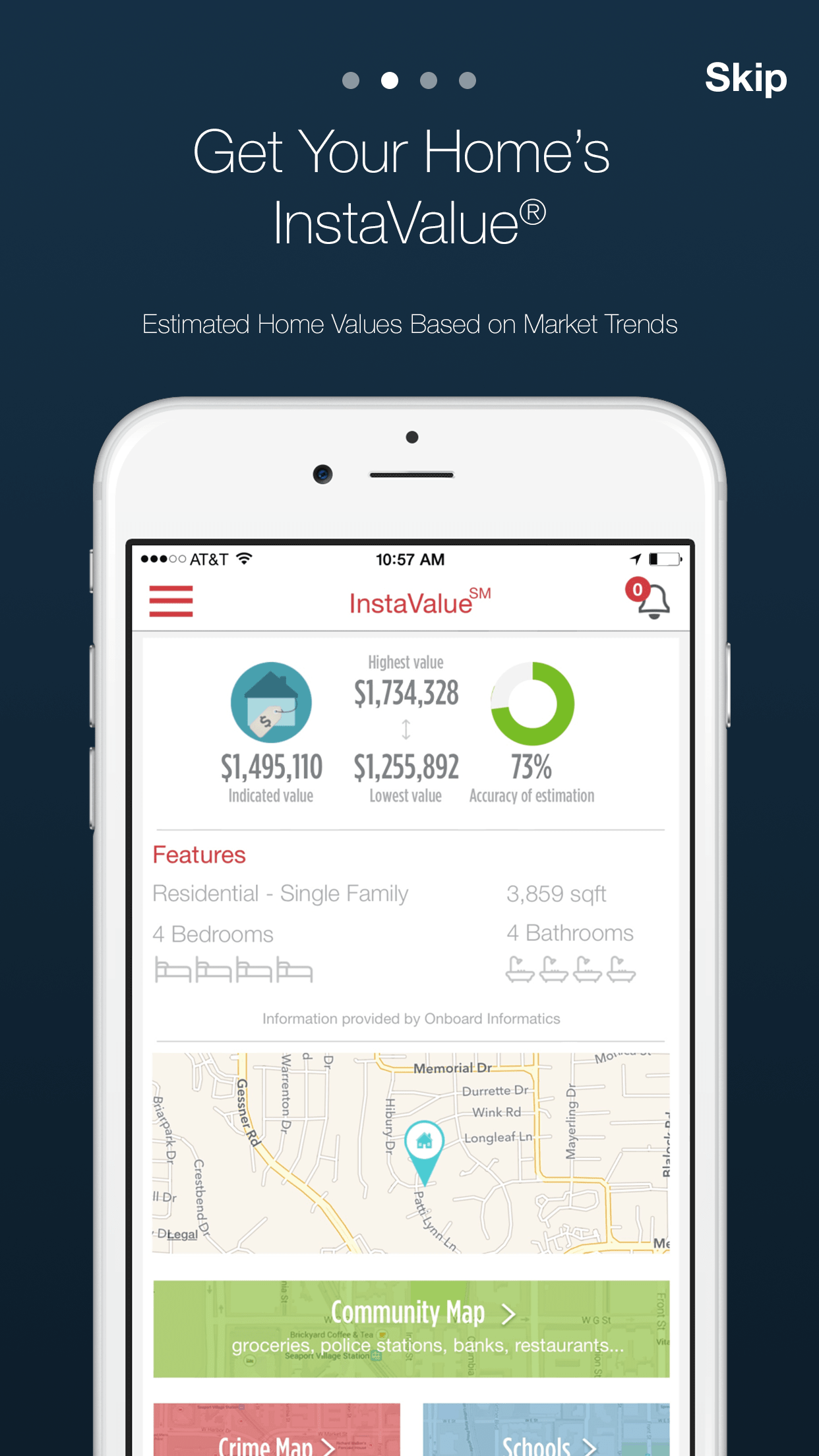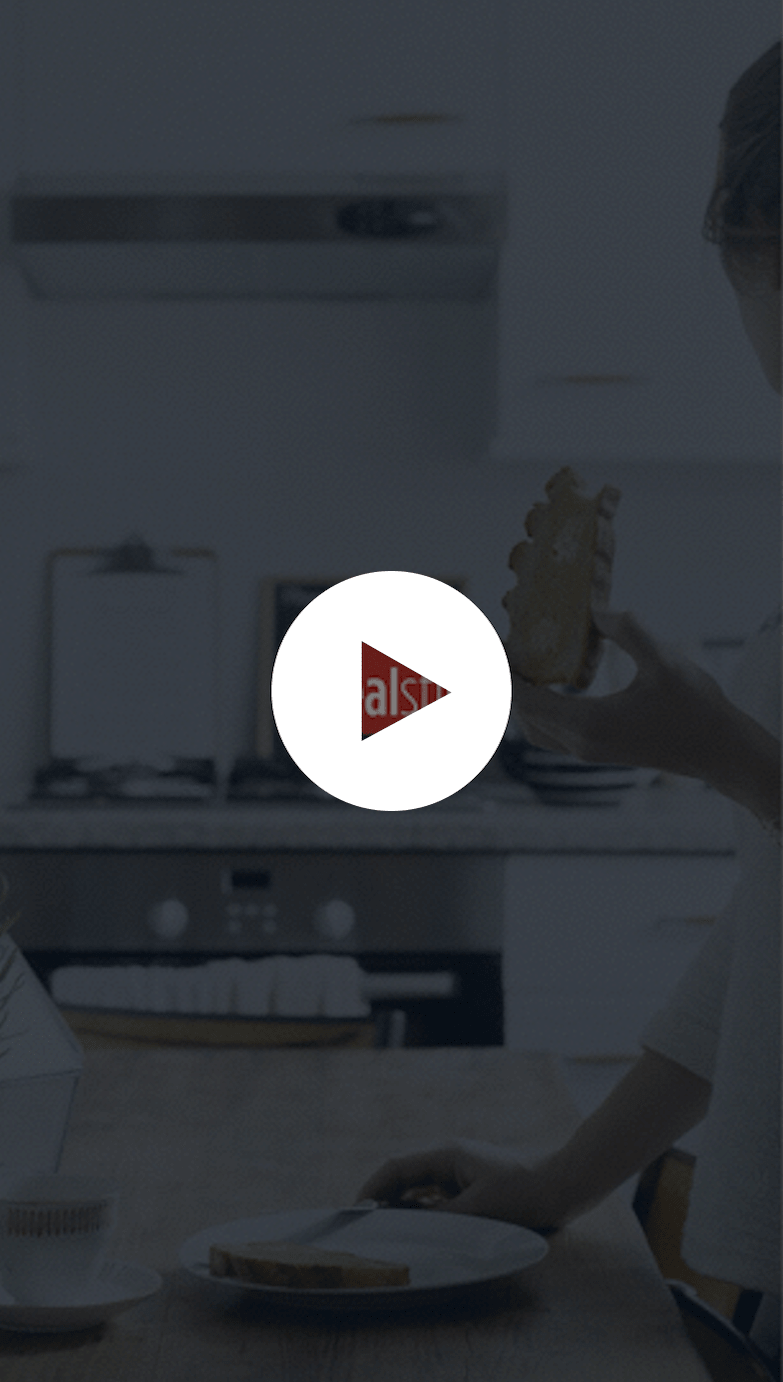 Navigation Improvements and Redesigning Realstir's Live Chat
Earlier versions of the Realstir iOS app utilized too many forms of navigation. When I arrived at the company, navigation links were scattered across a tab bar, a hamburger menu, and navigation bar dropdowns, where they were hidden and jumbled with non-navigational actions. To address this,
I eliminated the hamburger menu and moved the links inside to more relevant places.
I moved navigational links out of the Nav Bar dropdowns, leaving only non-navigational action buttons that applied to the current view.
In situations where there were 2+ action buttons that could be collapsed into 1 action, I ditched the dropdown and placed the action directly in the Nav Bar.
For example, a dropdown in the chat inbox contained action buttons to "Edit" and "Delete" conversations. I eliminated that dropdown and implemented the standard iOS inbox pattern:
User taps "Edit" in the Nav Bar.
Checkboxes appear next to each conversation.
User selects the desired conversations.
User taps "Delete."
Conversations are deleted.
One instance of navigation improvements can be seen below in sketches illustrating two chat task flows. In one task (figure 4.07), the user opens and views an unread incoming chat from a real estate professional. In another (figure 4.08), the user starts a new chat conversation with an agent they haven't chatted with previously. Also shown (figure 4.09) are problem/solution pairings for proposed improvements to the chat interface and proposed UI additions.
After sketching a few iterations of these task flows, I converted them from paper prototypes into interactive "paper" prototypes by scanning them and linking them together in Axure. I then used the interactive prototypes to test the new navigation patterns with users.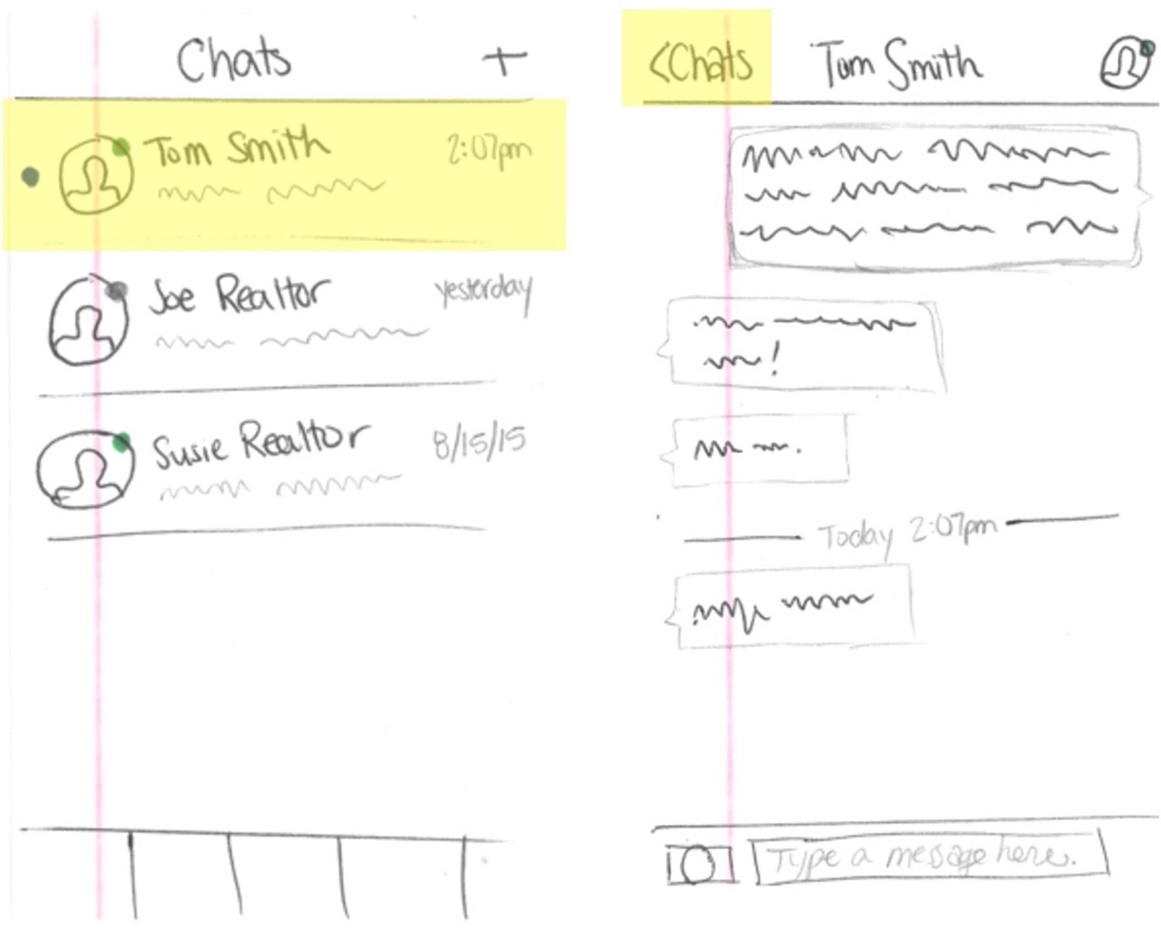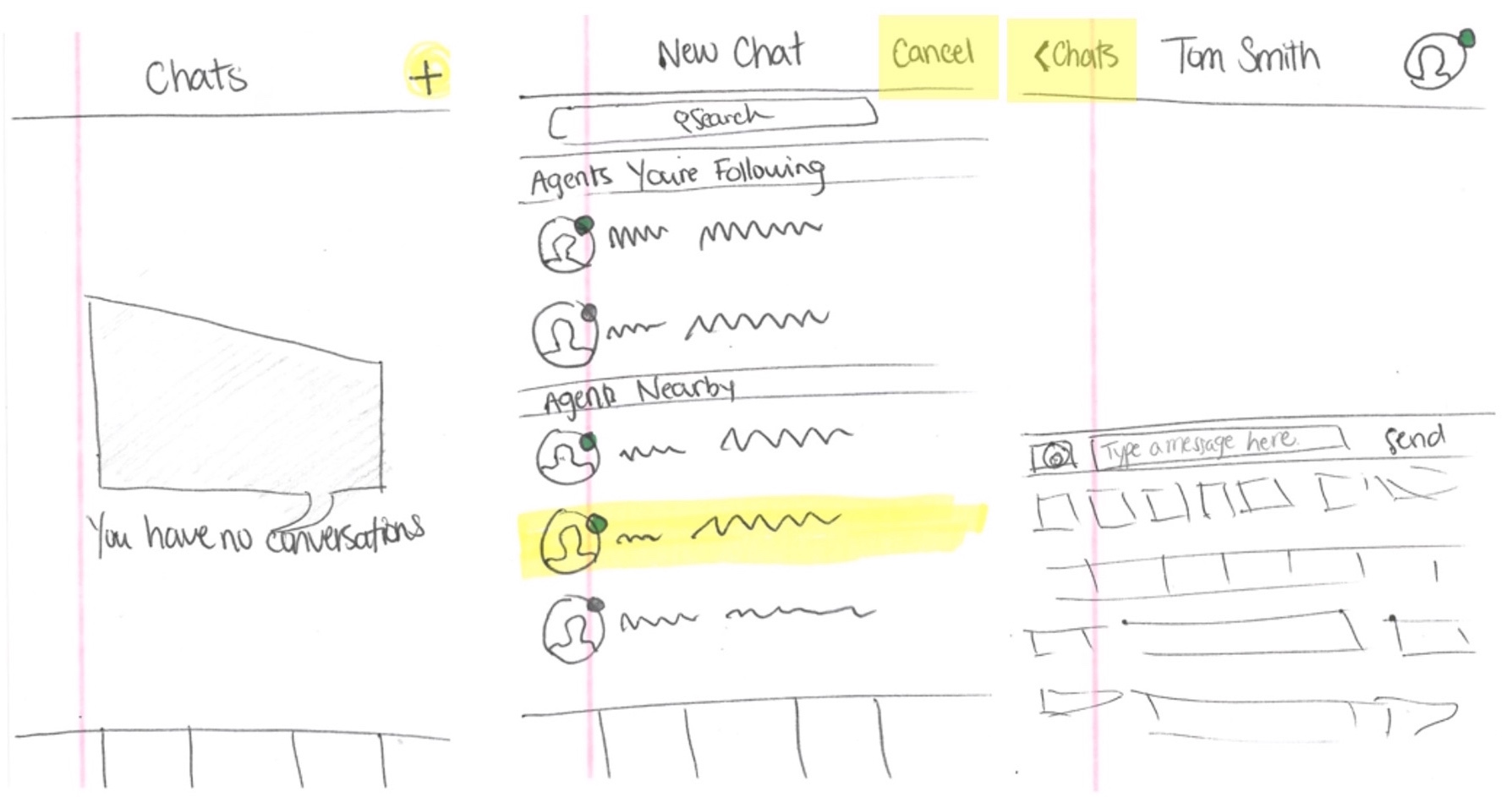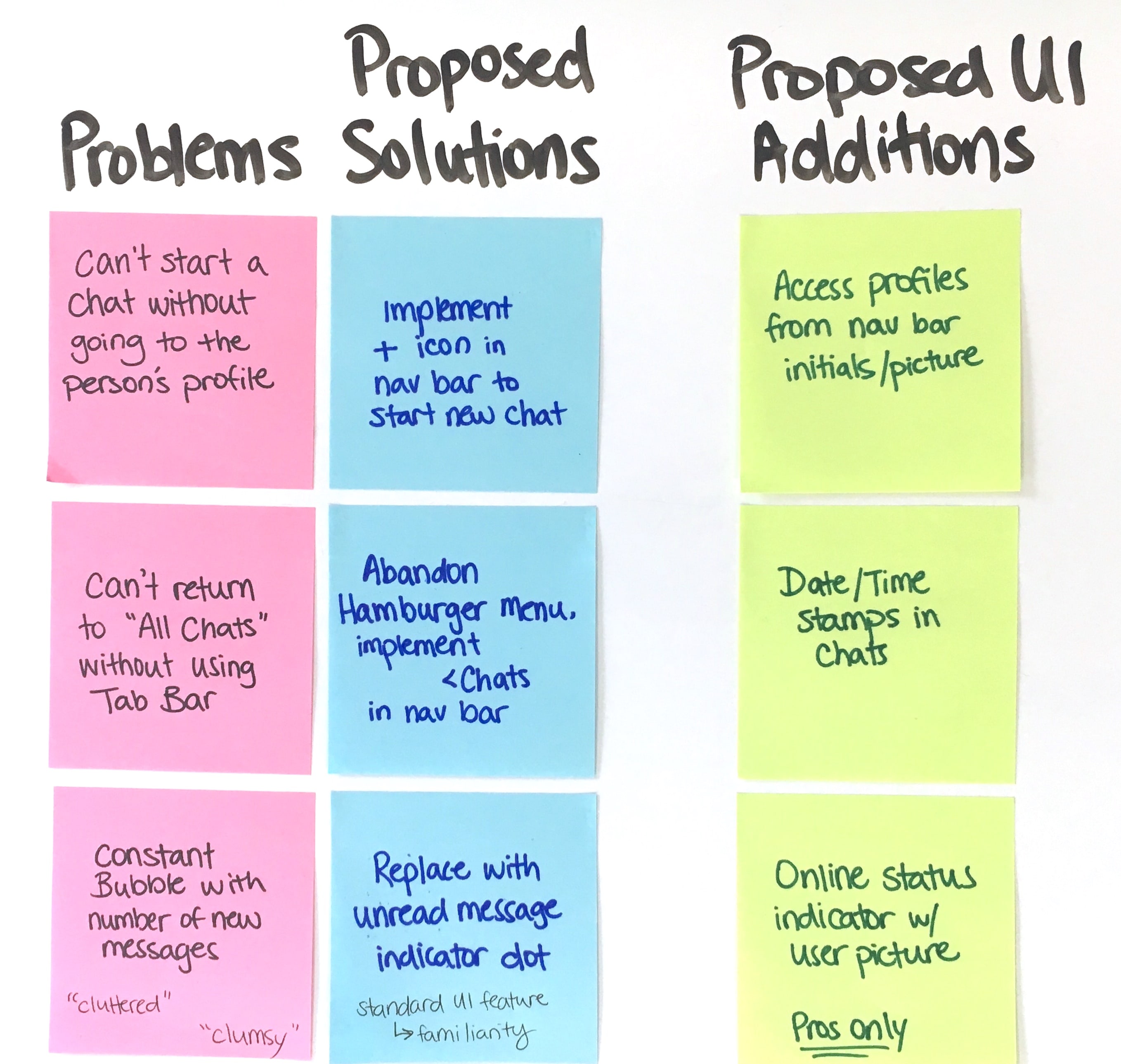 After developing interactive, high-fidelity prototypes of the chat interface (figure 4.10), I sent the designs and an element-based specification database to our offshore iOS development team. The specs (created in Airtable) detailed style, positioning, animation, and on-click interaction guidelines for each element.